Providing novel solutions to challenging problems
The "Go-to" Professionals You Can Depend On.
The Kenjya-Trusant Group is comprised of experienced commercial, government and private industry consultants and developers exemplifying best practices leadership.
We deliver cyber protection, information technology, engineering, construction management and acquisition-support services designed to protect the nation while maintaining the highest moral and ethical standards in the industry.
A service-disabled, veteran-owned, small business with headquarters near the nation's capital, Kenjya-Trusant provides state-of-the-art technologies and solutions to a growing roster of clients that includes the Department of Defense, the Department of Homeland Security, the Intelligence Community, The Department of Health and Human Services, and various Fortune 100 companies.
With professionals in offices from Maryland to Texas, we are ideally situated to provide support to federal, state, and local agencies in the Baltimore-Washington Corridor, and to commercial and government clients across the country. We provide quality service and expertise to our clients, using only the most experienced consultants.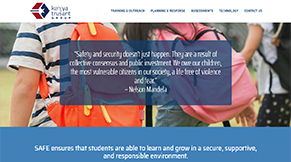 KTG Announces New SAFE Schools Service
KTG has developed a new suite of school safety and security products called Security Awareness for Education (SAFE). 
The SAFE program combines evidence-based security research and design with best practices in community resilience, violence prevention, and crisis response. While no one effort will make schools safe, a broad-ranging security program that strengthens the capabilities of people, policies, and facilities will go a long way in ensuring students are able to learn and grow in a safe, supportive, and responsible environment. 
Click here to learn more.
The Kenjya Trusant Group recently served as Program Manager for the TSA's First Observer Plus™ Program
The First Observer Plus™ Program provides transportation professionals with the knowledge needed to recognize suspicious activity possibly related to terrorism, guidance in assessing what they see, and a method for reporting those observations.
Click here to learn more.